FCC Group awarded for best practice in cultural transformation in diversity and inclusion for its You_diversity project
13/07/2022
FCC Group awarded for best practice in cultural transformation in diversity and inclusion for its You_diversity project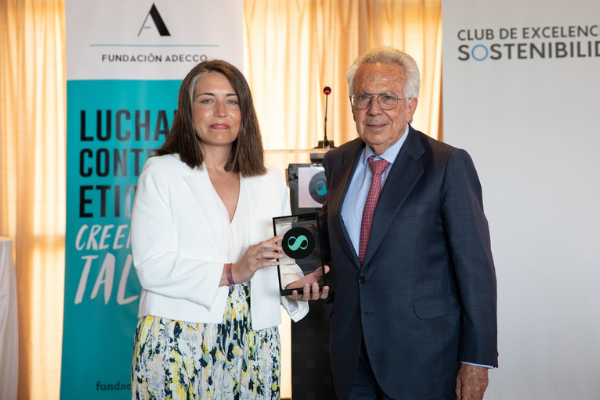 FCC has been awarded for the best practice in cultural transformation in diversity and inclusion by Fundación Adecco and Club de Excelencia en Sostenibilidad at the 5th Edition of the Diversity and Inclusion Awards organized each year by both entities to recognize business work in the management of corporate diversity, the design of equity and equality policies and initiatives to promote social and labor inclusion.

Under the honorary presidency of Their Majesties the King and Queen of Spain, the ceremony took place at Club Financiero Génova in Madrid and was opened by Isabel Castro, Secretary of State for Migration at the Spanish Ministry of Inclusion, Social Security and Migration.
Ramona Fernández Kelly, corporate head of HR of the FCC Group, accepted the award from Emilio Zurutuza, patron of Fundación Adecco, and thanked this entity and Club de Excelencia en Sostenibilidad for the excellent organization of these awards, as well as the members of the jury for considering the You_diversity project as the best practice in cultural transformation in diversity and inclusion. Throughout her speech she also highlighted that "there are many teams that dedicate their efforts to keep You_diversity alive, and, therefore, many people for whom this award is not only a gift, but also a boost and a great responsibility to continue working for a better FCC and a better society every day".
With this recognition, Fundación Adecco and Club de Excelencia en Sostenibilidad wanted to give value to the You_diversity project, created by the company to give visibility, raise awareness and reduce unconscious prejudices and biases, social exclusion, and empower diversity on the road to effective equality, promoting human rights and joining efforts in the fight against any form of discrimination, inequality, violence or harassment.

Commitment to equality and diversity
You_diversity was born with the aim of bringing together the company's values and commitments to equality and diversity, which encourages the participation of all the people who belong to the FCC Group through collaboration and synergy.
For FCC, diversity and equality management is a business, social, ethical and legal imperative that adapts to the needs of the market itself, the society of which we belong and the culture in which we live immersed. At FCC we are committed to achieving the Sustainable Development Goals (SDGs) contained in the United Nations 2030 Agenda, and this space is a clear commitment to contribute directly to SDG 5 'Gender Equality'; SDG 8 'Decent work and economic development'; and SDG 10 'Reducing inequalities'.
The platform, hosted on the company's intranet, is also available to all employees on the FCC360 App, and is designed to encourage and promote the transformation of the corporate culture in terms of Equality, Diversity and Inclusion through content and significant training actions.
This space articulates training and dissemination actions, as well as campaigns and events related to equality and diversity, both of the company and the different FCC business areas, as well as collaborating entities and institutions.