21/11/2023
Esther Alcocer Koplowitz, chairwoman of FCC, receives Business Leader of the Year Award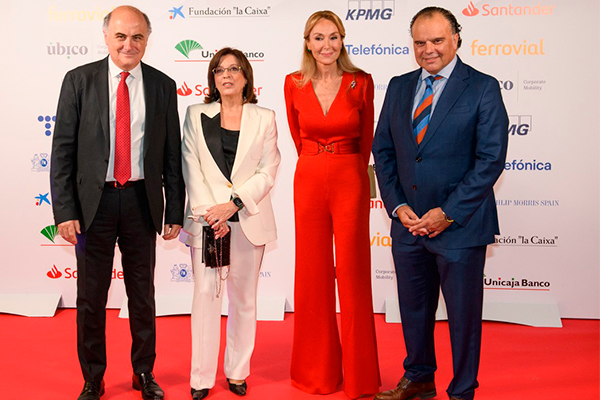 The chairwoman of the FCC Group, Esther Alcocer Koplowitz, has received the Business Leader of the Year Award, given annually by LaInformacion.com, the economic digital of the Henneo Group, from the president of the Henneo Group, Fernando de Yarza, and the president of La Información, Marisa Navas, in a ceremony held yesterday at the Rafael del Pino Foundation, in Madrid.
Esther Alcocer Koplowitz thanked the Henneo Group and La Información for this leadership award "it is an award that I accept, happy and excited, on behalf of each and every one of the people who make up the FCC Group, because they are the ones who have made it possible. Without them, FCC would be just a chimera and not one of the great leaders in the sector after more than 120 years of activity in more than 25 countries".
In her speech, she also dedicated the award to her mother, Esther Koplowitz, her main inspiration and reference "when in 2013, I assumed the presidency of the Group, I proposed to follow the path initiated by my main inspiration and reference: my mother, to whom I would like to dedicate this award in particular".
She also wanted to highlight the persistence of the people who form part of FCC, and their passion for things well done, and the attention and care of the people who make up the different businesses.
The chairwoman of the company ended her speech by stressing that "what will always sustain companies will be those leaders who have the ability to translate a vision into a reality and who know, above all, how to instill hope in times of crisis".
These awards are given annually and recognize those businessmen and entrepreneurs who, with their daily efforts and acting from ethics, sustainability and contribution to society, have become a role model. These values are a living expression of those that inspire the journalistic model of LaInformacion.com.
They are awarded, in fact, to individuals, companies, entities or leading institutions, based in Spain, which throughout the year have stood out in one of the three established categories: Business Leader of the Year Award, Leader of the Year Award in Sustainable Investment and Leader of the Year Award in Innovation.