28/02/2014
FCC 2013 results mark the end of restructuring
• The Citizen Services group reports 1,506 million euro in losses
• Extraordinary items—impairments, discontinued activities and provisions—amounted to 1,680 million euro
• Debt amounted to 5,975 million euro, a reduction of 1,112 with respect to the previous year
• Restructuring advanced notably in all business areas, particularly Construction and Cement, in order to enhance operating profitability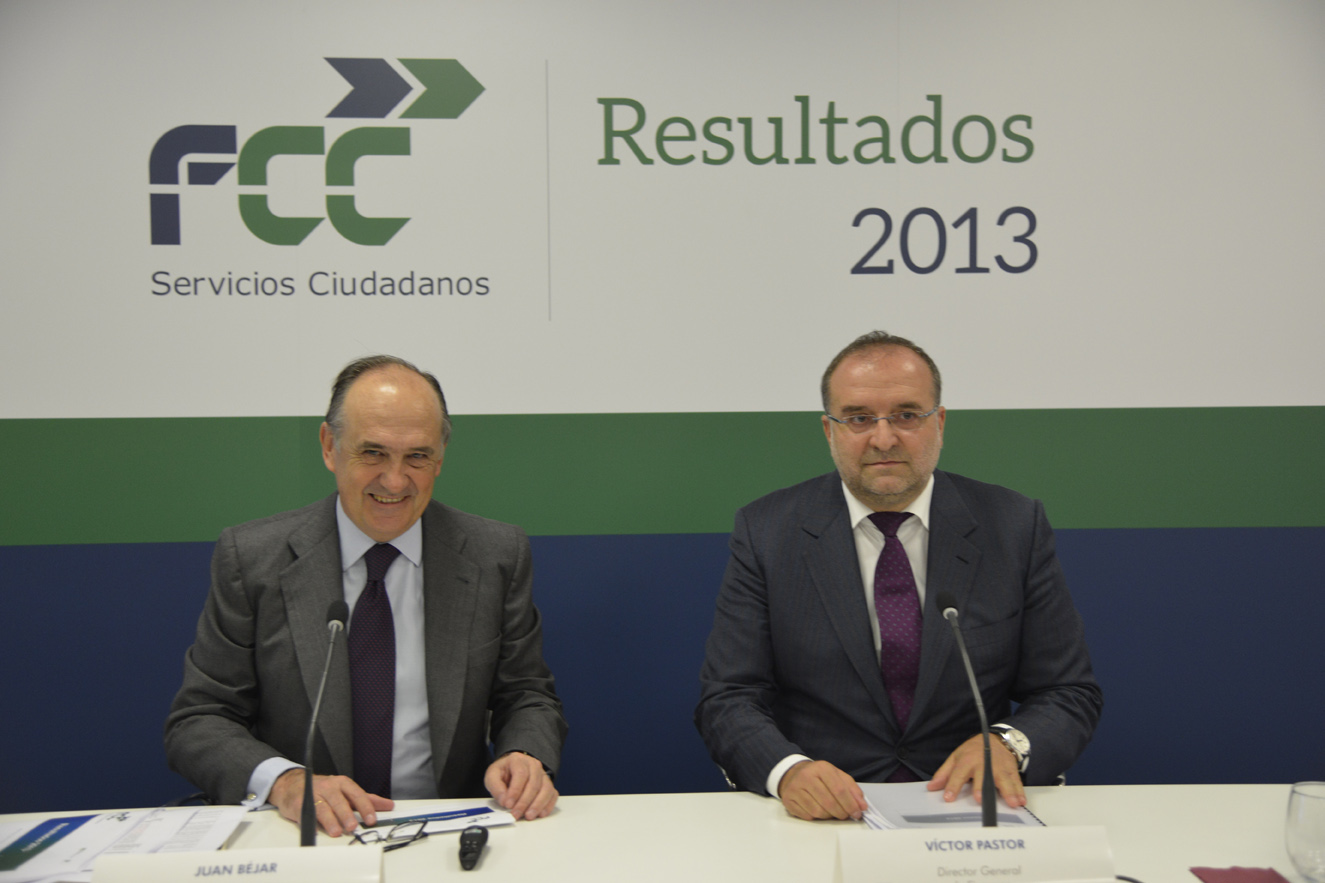 FCC's consolidated 2013 results mark the end of the restructuring process that commenced with the implementation of the Strategic Plan in March of last year. Impairments for goodwill, losses on discontinued operations, and extraordinary charges for restructuring, especially in the Construction, Cement areas and FCC Environment, amounted to 1,680 million euro, resulting in an attributable loss of 1,506 million euro in 2013.
During the year, debt was reduced to below 6,000 million euro, specifically 5,975, as a result of divestments under the ongoing Strategic Plan, which has garnered support from major international investors. Net debt at year-end was 1,112 million euro lower than one year earlier.
The year 2013 was shaped by two major processes: writedowns and extraordinary adjustments charged against period income, and asset divestments (which amount to over 1,550 million euro to date). Charges and restructuring costs totalled 1,680 million euro, broken down as follows: 469 in impairment of goodwill and other assets, 231 in exceptional provisions, 74 for impairment of loans to investees in the Construction area, and 906 resulting from discontinued operations, which include Alpine and FCC Energy.
In fact, excluding writedowns and provisions, FCC would have reported a small profit before taxes. This result reflects only one-third of the cost savings envisaged in the strategic plan, which will have an impact of close to 100 million euro in 2014. The Group is concentrating on improving profitability in all operations, especially in the international arena, strictly controlling costs in order to improve margins, and leveraging its market share in Environmental Services and Water, two areas in which FCC is outstanding.
Since the funding situation will be resolved through the imminent signature of the agreement to refinance the debt with recourse within the consolidation scope, scheduled within the next few weeks, FCC enters 2014 with the goal of increasing revenues and EBITDA and continuing to reduce debt.
Income statement
Revenues amounted to 6,726 million euro in 2013, a reduction of 9.5% year-on-year in comparable terms, i.e. adjusting for changes in consolidation scope due to divestments and the liquidation of Alpine. The reduction in business in Spain as a result of the sharp adjustment in government spending on infrastructure was partly offset by 4.6% growth in international markets, including notably Latin America (30.2%), the USA (15.4%), and the Middle East and North Africa (12.2%).
EBITDA amounted to 719.9 million euro, a 12.2% reduction year-on-year due to the decline in Construction and Cement business in Spain. The EBITDA margin (10.7%) was slightly lower than in 2012 but began to recover in the fourth quarter as a result of the restructuring measures. The Environmental Services and Water areas contributed over 80% of consolidated EBITDA and continue to provide recurring revenues and profit.
Income before taxes from continuing operations was negative in the amount of 625 million euro. Combined with the 905 million euro in losses on discontinued operations, the result is a net loss of 1,530 million euro, of which 1,506 is attributable to the parent company after deducting non-controlling interests.
Divestments amounting to 1,550 million euro
Net interest-bearing debt declined to 5,975 million euro at 31 December 2013, 1,112 million euro less than at 2012 year-end, due mainly to divestments during the year and deconsolidating Alpine. Although not all divestments were recognized in 2013, they amount to a total of 1,550 million euro to date, and that figure will be increased shortly by transactions currently underway.
Environmental Services and Water accounted for 42.7% of net debt, connected to regulated long-term public service contracts; 22.3% of net debt corresponds to Cement, which represents a large proportion of fixed assets on the balance sheet; and the other 35% corresponds to the Parent company, which includes a 450 million euro convertible bond, funding for investees in the process of being divested (GVI, Realia, etc.) and acquisition debt in connection with several operating companies in the various business areas.
The backlog amounted to 32,865 million euro at year-end, 6.4% more than at the end of 2012. The backlog, 80% of which corresponds to contracts in Environmental Services and Water, is equivalent to 4.8 year's revenues.