null
FCC supports digital training for the workplace inclusion of people with disabilities at the 9th National Advisory Council of the ONCE Foundation's Inserta Responsable Forum
27/01/2021
FCC supports digital training for the workplace inclusion of people with disabilities at the 9th National Advisory Council of the ONCE Foundation's Inserta Responsable Forum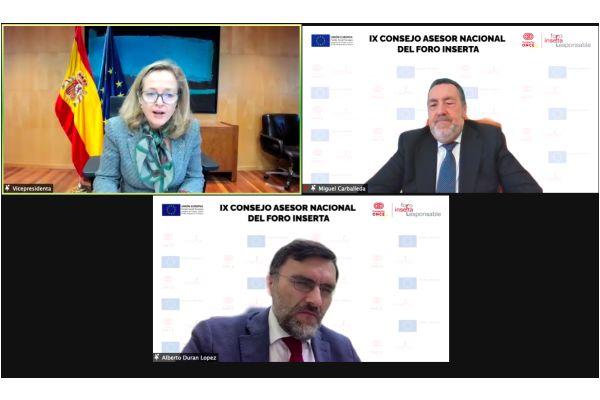 FCC participated in the 9th National Advisory Council of the Inserta Forum organised again by the ONCE Foundation, the European Social Fund and the Government of Spain, which focused on the latent need to transform the workplace and make it more inclusive for people with disabilities, derived from the negative effects of the social and health crisis.
Nadia Calviño, third Vice-President of the Government of Spain and Minister of Economic Affairs and Digital Transformation, gave the opening speech. The FCC Group participated in this digital meeting, trying to establish the bases to promote the workplace inclusion of this group, with a focus on digital training, in line with the "Recovery, Transformation and Resilience Plan" launched by the Government of Spain.
The FCC Group also participated in this panel discussion, addressing the new challenges arising after the pandemic and associated with the need to change the work culture, thus highlighting the new hybrid work model (on-site and teleworking). Moreover, it also discussed data analysis and the demand for expert profiles, such as new employment niche for people with disabilities.
In addition to the ONCE Social Group's commitment to roll out these social innovation initiatives, José Luis Martínez Donoso, Managing Director of the ONCE Foundation, also highlighted the foundation's effort made with its "Committed to Digital Talent" campaigns.
The data gathered by the end of 2020 indicate that this programme, jointly funded by the European Social Fund, has improved the employability of people with disabilities in digital and technological fields, although there has also been an improvement in terms of the employability of women, thanks to the extensive participation of women in the 548 training actions that were carried out, which resulted in closing 543 contracts. This type of initiative promoted by the Inserta Responsable Forum is backed by leading technology companies and the Public Administration, as well as by the country's most important companies and entities, among which is FCC.