08/03/2022
FCC focuses on equality and diversity on International Women's Day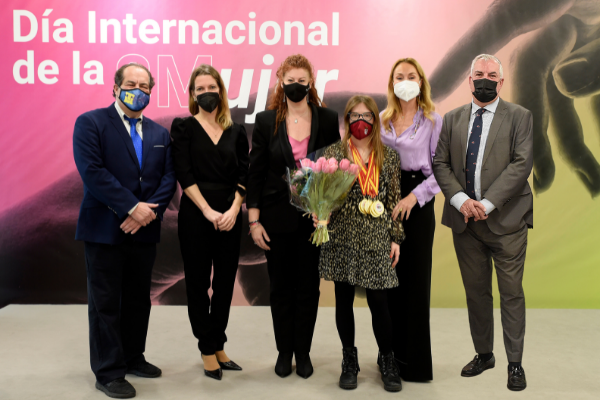 FCC has once again celebrated International Women's Day on the 8th of March. Remembered worldwide, in the Group, this date becomes a time for reflection and to recall its principles and report on its commitment and vision: absolute rejection of any type of discrimination, and commitment to diverse, inclusive and authentic companies with equal opportunities as one of its key pillars.
To celebrate this day, the company has held, at its corporate headquarters in Las Tablas (Madrid), a commemorative event presented by Isidoro Valverde, head of Labour Relations of the FCC Group's Human Resources Department. In addition to referring to the six Equality Plans launched by the Group's business areas in the last year, Isidoro Valverde stressed the major role played by equality in the company: " it is an important and relevant value within the Group, which guides us in our journey towards a common goal".
Next, Isidoro gave the stage to Camino Martínez, administrative assistant of Aqualia and European fast swimming champion. Camino talked about her successes and how great achievements are possible with perseverance and effort. She pointed out that "one of the most important things has been working at FCC and Aqualia, where I have some fantastic colleagues who support me a lot".
After Camino came Juan Carlos Cubero, international expert in leadership and transformation. Juan Carlos emphasised ethics as one of the keys to addressing equality and diversity in companies. In addition, he stressed that, to survive, any business group has to keep the pace of its surroundings; and that innovation depends on having diverse people. Lastly, he has encouraged FCC to continue to be a magnet for talent.
Constant commitment
FCC's constant commitment to raising awareness of diversity values translates into its proactive promotion of equal opportunities. The company has implemented an equal opportunities and diversity policy, through which it reaffirms its commitment to the fundamental principles of equality, non-discrimination at the workplace, helping improve diversity in companies and the respect for heterogeneity. It does so by working on three key pillars:
Gender: for the balance and professional development between genders, guaranteeing equal opportunities for men and women and supporting female leadership.
People with disabilities: for labour integration and the inclusion of talent.
Generational: for the cooperation between the different generations within FCC, consolidating the onboarding of young talent.
On International Women's Day, the company has also wanted to join the campaign of the Women's Institute and the Spanish Ministry of Equality.