FCC gives award to UN Women and the Royal Spanish Winter Sports Federation for their work and support for women victims of gender-based violence
25/11/2021
FCC gives award to UN Women and the Royal Spanish Winter Sports Federation for their work and support for women victims of gender-based violence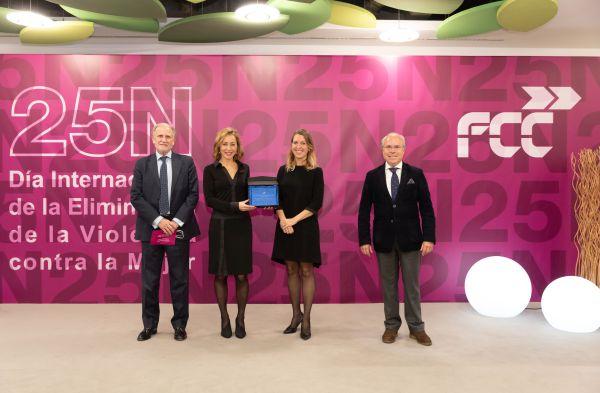 For the fourth year in a row, FCC has acknowledged and rewarded the work of different organisations and associations that fight against gender-based violence and protect women who are victims of this terrible social scourge. In this 4th edition, FCC has given two awards: one to UN Women as an international entity, for their outstanding work in support of women victims of gender-based violence and in the fight against abuse; and another to the Royal Spanish Winter Sports Federation (RFEDI), in recognition of their work, commitment and excellent work to tackle gender-based violence against women and girls in sport.
The award ceremony for the Royal Spanish Winter Sports Federation took place this morning at the FCC corporate headquarters in Las Tablas, Madrid, as part of the celebratory events to commemorate the International Day for the Elimination of Violence against Women.
On behalf of the Board of Directors of RFEDI, Paula Fernández-Ochoa, head of the Women and Snow area, has received the award from the Director of Compliance and Sustainability, Javier López Galiacho. López Galiacho stressed that 'companies, as leading social agents, have to promote awareness to thus eradicate these regrettable behaviours that lead to suffering not only for women but also for their children and closest relatives.' Paula Fernandez-Ochoa thanked FCC for this recognition of the organisation's work and support in the fight against abuse, and for preventing possible situations of harassment and sexual abuse.
FCC will send the award to UN Women at its headquarters in New York. UN Women have expressed their gratitude to FCC Group for being selected.
Today, and always, at FCC we defend equality between men and women and reject any act of violence. We need to work so that education and awareness of harassment and gender-based violence in all its forms reaches the entire population, regardless of their level of training. It is a joint task in which the sum total of all our efforts will show us the path to success.