08/03/2023
FCC and its commitment to women in STEM on International Women's Day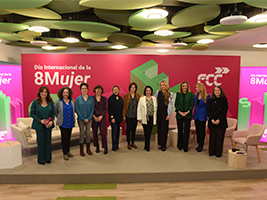 FCC celebrates International Women's Day 2023, which is held on 8 March every year and has become a truly global event and a space to reflect upon areas where improvements are still needed and upon the progress made by and for women.
A roundtable event has been held today at FCC's corporate headquarters in Las Tablas, in Madrid, under the strapline "Talking to Women in STEM", with an opening speech by its chairwoman Esther Alcocer Koplowitz. This event set out to raise the profile of women in science, technology, engineering and maths. During her speech, the chairwoman thanked all of her colleagues who work to foster and guarantee equal opportunities for both men and women in the FCC Group for their work and for their efforts. She emphasised that "now, more than ever, research, technology and innovation play an especially important role in ensuring that FCC's business divisions lead the way in sustainable business practices and, for this purpose, we're so lucky to have you here today on board".
Participants at the roundtable event, which was moderated by the journalist Helena Resano, including leading female scientists and STEM professionals from the FCC Group, who shared their experiences in this area, in order to emphasise the importance of having women in the world of science and research, and convey this to the rest of the company.
The following scientists took part: Ángela Nieto, a scientist who holds a doctorate in Biochemistry and Molecular Biology, is currently a professor at the Alicante Institute of Neurosciences and is recognised for her research on the embryonic processes involved in the development of a number of diseases, including cancer; Cristina Romera, a chemist who holds a PhD in Marine Sciences and is also researching dissolved organic matter in oceans and its interactions with microorganisms, as well as the quantification of organic matter released by plastics and its effects on marine microbes; and María Retuerto, a chemist, scientist and researcher, who has received awards for her work on advanced systems for optimising water electrolysis, as well as the best technology for producing renewable green hydrogen. All of them have won a number of international prizes.
A number of female STEM staff members from various FCC Group business divisions also took part in the event. FCC Ámbito was represented by María Jesús Kaifer, who holds an undergraduate degree in Chemistry; Aqualia's representative was Marta Casao, who holds an undergraduate degree in Chemical Engineering; Natalia Abánades, technical agricultural engineer, attended on behalf of FCC Construcción; and Nieves María Lacera, a mining engineer, attended on behalf of the Cementos Portland Valderrivas Group.
The event ended with a video paying tribute to all of the female STEM professionals in the FCC Group, who harness their knowledge to benefit the company, serving as a model and inspiration for everyone within it.
Running alongside this event, there is also a photography exhibition in the company's main headquarters, which aims to recognise the FCC Group's female STEM professionals and raise their profile even further. This exhibition will also be taken to other work centres during 2023.
Commitment to equality
FCC has implemented an equal opportunities and diversity policy, which reaffirms its commitment to the fundamental principles of equality, non-discrimination at the workplace, helping improve diversity in companies and the respect for heterogeneity. The company has been working in this area for years and is already reaping the rewards and results of these initiatives, thanks to which it is consolidating a fair, professional and very diverse work environment.
However, it should be noticed that FCC has continued to discuss its Equality Plans over this year. Thanks to all of these years of work, the company now has twelve Equality Plan across its different business divisions, which have emerged from constant social dialogue and a shared desire among all parties to achieve, strengthen and guarantee equal treatment and opportunities for men and women within the company.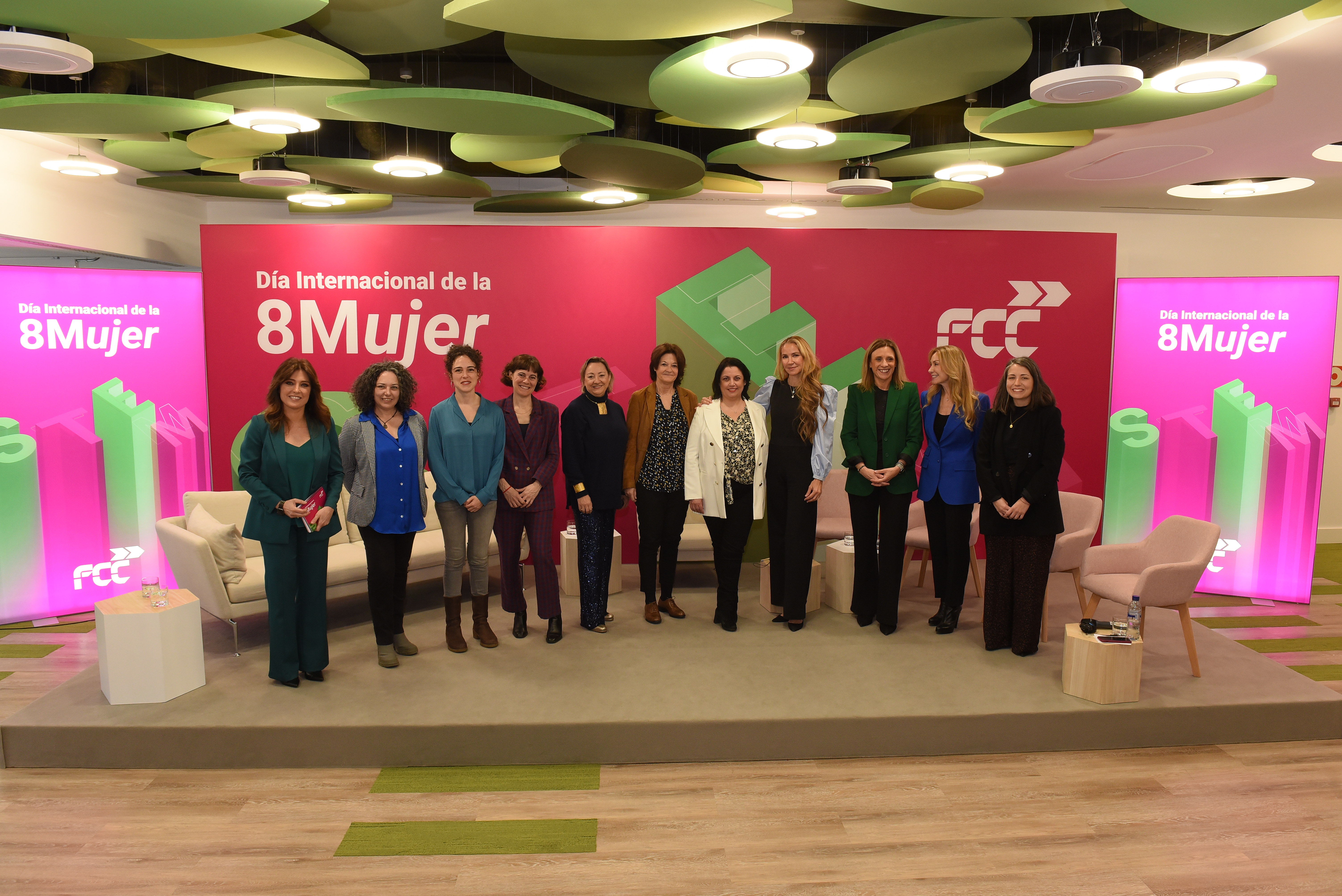 Group photo from the event held at the FCC Group's corporate headquarters to mark International Women's Day.